Arm Sling Pouch Junior
KSh1,300.00
In Stock
Highlights:
Lightweight fabric arm pouch that holds the arm securely against the body
Junior sized, suitable for ages 6 to 14 years (approximate)
Supports the arm from the elbow to the wrist
Adjustable neck strap allows the wearer to secure their arm at the right position
Grey fabric material is lightweight and easy to clean
Description
The Kedley Fabric Arm Pouch provides complete support for injured arms and is a comfortable alternative to traditional slings.
Related products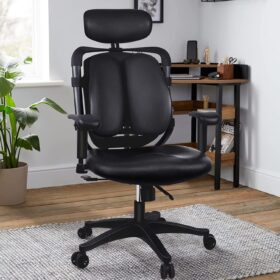 Highlights:
Anyone with an office job knows the (literal) pain of sitting for extended periods of time; spending the entire day in a chair can take a very real, very uncomfortable toll on your body, and this is just magnified whenever you are forced to sit in a chair that hasn't been ergonomically designed to maximize your health and comfort.
For Nonstop Wellness — Designed with the input of more than 30 physicians and PhDs in biomechanics, vision, physical therapy, and ergonomics, our office chair is for those who take sitting seriously. This chair is the modern benchmark for pressure distribution, natural alignment, and healthy movement. Instead of locking you into the seat, this modern ergonomic office chair combines active and passive ergonomics to encourage effortless long-term sitting. Its signature spinal design lets you manually fine-tune the fit to your back while the matrix of pixels in the seat and back automatically conform to your micro-movements. An Orthopedic chair is designed to provide your spine and skeletal system with the best possible support. It offers support for the lumbar region of your spine so that you can sit in a position that keeps you from hunching over and straining your shoulders. There are many different types of orthopedic chairs available out there, but what they all have in common is that they are focused on the comfort of your spine.